"Mountain people helping mountain people." - It's Who We Were Then And It's Who We Are Now

Our Patients | Our Family | Our Heart
Our Heart Is in the Home. When Mount Evans was founded in 1980 our motto was "Mountain people helping mountain people." It's who we were then and it's who we are now. Our heart has always been and will always be in the home and with our patients. Our mission is special and there isn't a day that passes that we don't realize how lucky we are to know, love and care for the extraordinary people in our mountain community. We also recognize that we couldn't do what we do without the backing of a remarkable community.
Throughout the next year, we plan to share our stories. We hope to touch your heart in much the same way as our patients touch ours. We also want you to know us and why we do what we do.
Please follow along in Colorado Serenity Magazine, Canyon Courier, Clear Creek Courant and the 285 Hustler as well as our social media pages to learn why Our Heart is in the Home. We think you'll be inspired.
Matt loves helping people. And for the past year, he's been helping our patients begin their care at Mount Evans. "It's my job to make sure the patient is seen by one of our clinicians within 48 hours depending on their care needs. The best moments are when a patient says 'thank you for taking care of us so quickly.' I know that I've done my best to get someone the help they need, and I go home happy."
Read More »
For 27 years, Wendy has been helping patients and their families adjust to health issues and identifying ways to make their lives easier.
Read More »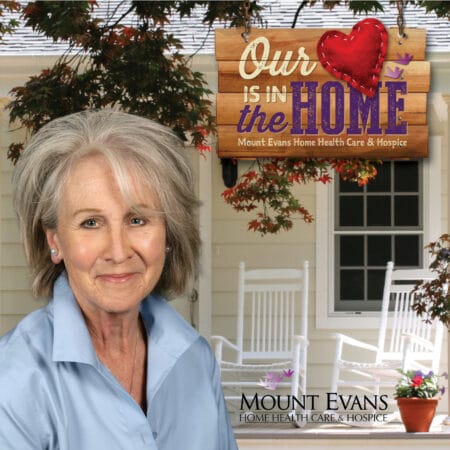 Nancy provides spiritual care, unconditional love, compassionate support, and a listening ear to our patients. "Many people long for someone to truly "hear" and "see" them as they are. Illness and end of life concerns often cause people to reflect on their lives and frequently feel the need to express what they may have long held inside. I share with people that I do not have their answers, but remind them that their answers lie within themselves."
Read More »