"Mountain people helping mountain people." - It's Who We Were Then And It's Who We Are Now

Our Patients | Our Family | Our Heart
Our Heart Is in the Home. When Mount Evans was founded in 1980 our motto was "Mountain people helping mountain people." It's who we were then and it's who we are now. Our heart has always been and will always be in the home and with our patients. Our mission is special and there isn't a day that passes that we don't realize how lucky we are to know, love and care for the extraordinary people in our mountain community. We also recognize that we couldn't do what we do without the backing of a remarkable community.
Throughout the next year, we plan to share our stories. We hope to touch your heart in much the same way as our patients touch ours. We also want you to know us and why we do what we do.
Please follow along in Colorado Serenity Magazine, Canyon Courier, Clear Creek Courant and the 285 Hustler as well as our social media pages to learn why Our Heart is in the Home. We think you'll be inspired.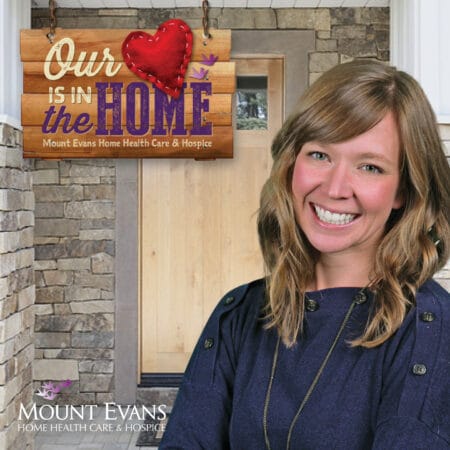 Emily gives mountain residents their voice and helps them speak, think, and even swallow foods and liquids. "I am proud to help our mountain community in a variety of ways. Speech therapists have many roles outside of speech and language: educating families on disease processes, strengthening swallow function, and teaching memory strategies. My goal is always to put the needs of the resident and their family first."
Read More »
Debbie Schwartz is the first person and the first smile people see when they walk through Mount Evans' doors. Since 2012, she's been greeting visitors, clients and staff. When she's not working at Mount Evans, she gives her time as a volunteer with the Mount Evans Memory Quilters.
Read More »
"A lot of patients tell me how grateful they are. Often patients think that entering into hospice means they have to go into a facility. Our care allows them to keep their independence. It makes me feel good knowing I am there for them and that my care allows them to stay in their home and not be uprooted near the end of life."
Read More »