Join Our Amazing Team of Health Care Professionals
Join an amazing team of health care professionals providing skilled, compassionate home health and hospice care in the mountain communities west of Denver including Morrison, Conifer and Bailey along the 285 corridor; Genesee, Evergreen, Idaho Springs and Georgetown on the I-70 side; and Central City and Black Hawk in Gilpin County. We offer challenging and rewarding work in a nurturing family environment. Full- and part-time, flexible schedules available. Good benefits for qualified employees.
Job Postings Currently Available: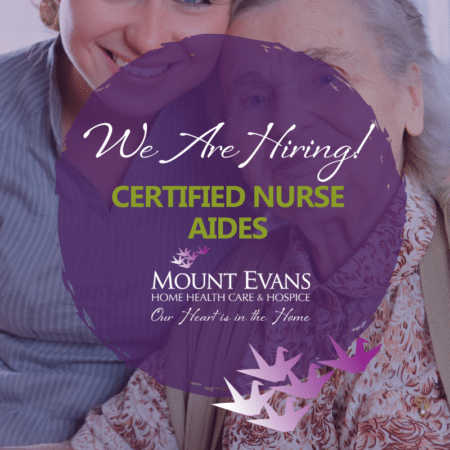 We're looking for full-time and part-time Certified Nurse Aides – CNAs to be vital members of our interdisciplinary Home Health and Hospice teams.
Apply Within »
Applicants
Applications for job openings can be downloaded at the below link or you can find an electronic submittal form within each job posting above.
The above signed and filled Employment Application (PDF) can be mailed, emailed, or faxed to below:
Mount Evans Home Health Care & Hospice - Mailing Address:
3081 Bergen Peak Drive, Evergreen, CO 80439 (office)
303-674-8813 (fax) or  jobs@mtevans.org
If you have any questions, please call 303-674-6400 (office)
Hospice and Home Health Nurse Quote
Kristen Bailey -
Hospice and Home Health Nurse
"Working for a non-profit is so much different than working for corporate medicine. We have a great team that really cares about each patient as an individual. I've been a nurse for 25 years. At Mount Evans, I'm able to really take care of people in a way that I haven't had a chance to do before."
Physical Therapy Quote
Steffany Toppin -
Physical Therapist
"It doesn't matter what title or position an employee has at Mount Evans, it is impressive how much every person cares for each of our clients. The women (and a few men!) that I have the pleasure of working with are seriously good people, and I feel privileged to be able to work with them."
Hospice and Home Health Nurse Quote
Michelle Quihuiz -
Hospice and Home Health Nurse
"Our clients come first. When I started at Mount Evans our patient census was less than 100 and we gave wonderful care, now we are approaching 300 and we provide even better care. It's an amazing family, we share personal hardships, milestones, lots of laughter and many tears together."
Nurse Practitioner Quote
Judy Conrad -
Nurse Practitioner
"I think one of the things that makes Mount Evans special, is that all employees are truly seen and treated as being equally important in the functioning of the organization. I don't sense a hierarchy. There are a lot of thank yous said and displayed. "
Hospice and Home Health Nurse Quote
Teri McLaughlin -
Hospice and Home Health Nurse
"Mount Evans has a very warm culture. Everyone has value. It is comfortable to walk in the doors and feel cared for and to care for the rest of your team. Culture like that takes effort and years of fine tuning. It's part of why we can spread love to our patients, because we are loved."
ColoradoBiz Magazine has named Mount Evans Home Health Care & Hospice a top company in health care for three years in a row. Find out what makes us so special in this message from our CEO.