Mount Evans is partnering with the Department of Veterans Affairs and the National Hospice and Palliative Care Association for the We Honor Veterans program in order to provide the highest levels of comfort, care and support to the men and women in our mountain communities who have served our country.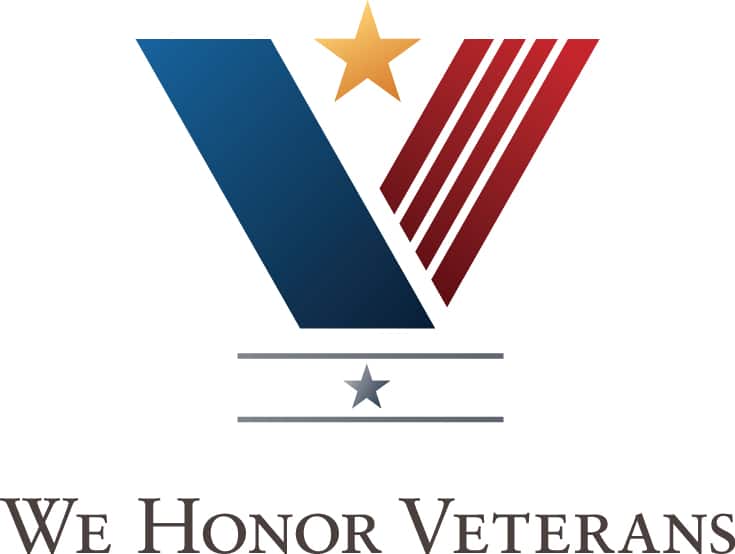 Providing a Better End of Life Experience
There are more than 18.2 million Veterans in the United States who have protected and served our country. Of these, more than half, are over the age of 65. There is a growing recognition, both here at Mount Evans and throughout the country, of the need to provide Veteran-centered care to our servicemen and servicewomen. It's the reason Mount Evans is participating in a pioneering campaign to recognize the unique needs of Veterans and their families and to help guide them toward a more peaceful ending.
For this story, I want to introduce you to Eric, one of our hospice patients. Eric dedicated four years of his life to serving in the Merchant Marines. However, he doesn't fit neatly into a category. At just 49-years-old, he's not an aging Veteran, nor is he officially recognized as a Veteran – at least not by the U.S. government. Regardless, we believe his story and his service deserve recognition and respect.
Eric grew up in Littleton, CO. He spent almost every free moment of his childhood fishing the waters of Chatfield Reservoir for trout, catfish, and bass with his family and friends. When he graduated from Chatfield High School, he answered the call to serve and enlisted in the Marines.
"I hurt my back in boot camp. I remember it dropped me to my knees and I couldn't walk for a while. I had to be hospitalized," says Eric. "When they got me back up and walking again, they told me I could either go on a medical dishonorable discharge or I could go into the Merchant Marine."
Eric opted for the Merchant Marine. For those of you unfamiliar with the Merchant Marine. It's an official, uniformed, armed service created by the Merchant Marine Act of 1936 (although its unofficial history dates back to 1775). The fleet of U.S. ships carry cargo during peacetime and becomes an auxiliary of the Defense Department during wartime to deliver troops and supplies to conflict zones. The Navy has relied on the Merchant Marine in almost every conflict.
"We carried fuel, ammunition, food and anything they needed, we took it to them," explains Eric. "We ported all over the world, I got to see a lot of countries that most people don't get to see."
Eric's service provided him with four years of rich experiences, but little in the way of benefits. Applications by the U.S. Maritime Service for Veteran status have been denied four times with the exception of a select group of mariners who served in World War 2.
When Eric completed his service, he returned to home to Colorado. He became a small business owner, running and operating an oil and lubrication shop that he loved. At age 37, his life took a dramatic turn. He suffered four heart attacks in 10 hours. He spent 2 and a half months in coma. When he woke from the coma, he discovered the damage had left him paraplegic.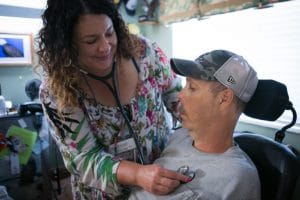 "There's not much of my ticker left. I'm OK with it. Nobody lives forever, my heart is just worse than most people. I had a chance to be put on the list for a new heart, but I said no. I take a lot of pills now and all it would do is make me take more pills. I take 14 pills a day and I'll be damned if I'm going to take any more than that."
For a while, Eric lived in an apartment with his brother. After a series of falls and hospitalizations, Eric made the decision to sign a do-not-resuscitate order. He asked his sister to find him a nursing home. He stayed in a facility in Lakewood while he waited for an opening at Life Care Center in Evergreen.
"I don't want to be in the city. I'd rather live up here with the fresh air and critters," explains Eric.
He's visited regularly by his Mount Evans care team of nurses, certified nursing assistants, social workers, chaplains and volunteers.
"They are awesome, I wouldn't trade them for anything. They always make sure I'm OK." Eric says, "It's not work. When I had my own business before I had my heart attacks, it was a job but it never felt like one because I loved what I did. I think it's the same for them. I think they love caring for people. I love hospice. They help me do everything."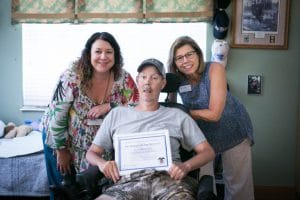 Eric's team at Mount Evans feels the same way about him. It's one of the reasons why when Mount Evans earned our We Honor Veterans Level I status, he was one of the first veterans we presented with a certificate recognizing his service.
"I was floored that anybody would recognize me. I've never been recognized for anything. I couldn't believe that anybody acknowledged my service, but I worked as hard as anyone else, sometimes harder. It was not easy."
We lose approximately 680,000 Veterans every year in the United States. Too often, these men and women who have protected and served our country, are unaware of the end-of-life services and benefits available to them. We aim to change that at Mount Evans by recognizing the physical, mental, and emotional wounds that often intensify as Veterans age, honoring their courageous service and caring for them with the dignity they deserve.