---
HIPAA POLICIES
---
Notice of Privacy Practices
We are required by the privacy regulations issued under the Health Insurance Portability and Accountability Act of 1996 (HIPAA) to maintain the privacy of our patient's medical information and to provide patients with notice of our legal duties and privacy practices with respect to their medical information.
Protecting the confidentiality of your personal information has been, and always will be, a top priority for Mount Evans Hospice & Home Health Care. We want you to understand the measures we take to protect your health information and the situations where we might share it in the course of providing you with your medical care.
Sources of Information
Protected Health Information (PHI) refers to nonpublic personal information.
In order to provide you with medical care, Mount Evans collects information about you from the following sources:
The information provided by you and your family upon admission and throughout your medical care, such as your name, address, insurance information, social security number, and health history.
The information provided by your physician's office, laboratory, skilled nursing facility, or hospital, as part of the process of providing you with medical care.
Use of Information
Your medical information may be used and disclosed to carry out treatment, payment, and health care operations:
"Treatment" means the provision, coordination, or management of health care and related services by one or more health care providers, including the coordination or management of health care with a third party, consultation between health care providers relating to a patient; or the referral of a patient for health care from one provider to another.
"Payment" means the activities of a health care provider to obtain reimbursement for the provision of health care, including determinations of eligibility or coverage, billing, and review of services with respect to medical necessity or appropriateness of care.
"Health Care Operations" refers to the administrative side of the health care provider's operations, including conducting quality assessment and improvement activities, reviewing the competence of health care professionals, conducting training programs, conducting or arranging for medical review, legal services and auditing functions, business management and planning.
Mount Evans ensures that only employees and volunteers who need your information to perform their job are provided access. This includes staff in the office and those who visit your home. Our staff is trained to protect this information and keep it confidential.
We treat your information with respect and concern for your privacy. We do not disclose any nonpublic personal information about you to anyone, except as permitted or required by law. This may include required reporting to public health entities, social service or protective service agencies, coroners and medical examiners, or responding to a subpoena. If you desire to be a organ or tissue transplant donor, or anticipate needing the services of a funeral director, we may need to share your health information to assist them in carrying out their duties. We may also use or disclose your health information when necessary to prevent a serious threat to the health or safety of you or other individuals.
In certain circumstances, federal regulations authorize the use or disclosure of your health information related to military or national security activities, or the American Red Cross in order to verify a medical emergency for military personnel.
We may disclose information we have collected about you to companies that perform services on our behalf, such as pharmacies; durable medical, infusion, or oxygen companies; skilled nursing facilities; or ambulance services. Third parties who have access to personal information must agree to follow appropriate standards of security and confidentiality.
Mount Evans follows federal standards for electronic transmission of healthcare information and has developed physical, electronic, and procedural measures to ensure that your personal information is secure. If you have designated, in writing, a durable medical power of attorney or other person to receive information concerning your medical care or payment, we may disclose information to that person, as necessary.
Mount Evans does not sell, trade, or share your PHI with any outside entity or organization for marketing or fundraising purposes.
Access to Your Medical Information
You have the right to inspect and/or receive a copy of your PHI. All requests must be in writing and signed by you or your legal representative. We may charge you a per-page fee and/or an administrative fee for copies, and we will inform you of the fee before we process your request. We may deny your request in certain limited circumstances. If you are denied the right to see or copy your PHI, you may request that the denial be reviewed.
You have the right to request that the medical information we maintain about you be amended or corrected. All requests must be in writing and must state the reasons for the amendment or correction.
You have the right to receive an accounting of disclosures made for purposes other than treatment, payment, or healthcare operations. Your request must give the time period for which you want information. Requests must be made in writing and signed by you or your legal representative. There will be no charge for the first accounting in any twelve-month period.
You have the right to request that we communicate with you about your health care in a certain way or at a certain location (for example, no phone messages at home, send bills to another address, etc.). We will accommodate all reasonable written requests.
Restrictions and Revocation of Consent
You have the right to request a restriction on how your PHI is used by notifying us in writing. We are not required to agree to your restrictions, but will attempt to accommodate your request.
Your consent may be revoked in writing at any time and will become effective immediately upon receipt, except to the extent that Mount Evans may have already released PHI within the parameters of this consent.
How to File a Complaint:
If you believe your privacy rights have been violated, you can file a complaint with the Mount Evans Hospice & Home Health Care office or with the Office of Civil Rights of the U.S. Department of Health and Human Services. There will be no retaliation for filing a complaint.
---
Privacy Policy
---
Who We Are
Our website address is: https://mtevans.org.
What personal data we collect and why we collect it:
Comments
When visitors leave comments on the site we collect the data shown in the comments form, and also the visitor's IP address and browser user agent string to help spam detection.
An anonymized string created from your email address (also called a hash) may be provided to the Gravatar service to see if you are using it. The Gravatar service privacy policy is available here: https://automattic.com/privacy/. After approval of your comment, your profile picture is visible to the public in the context of your comment.
Media
If you upload images to the website, you should avoid uploading images with embedded location data (EXIF GPS) included. Visitors to the website can download and extract any location data from images on the website.
Contact forms
TBD…
Cookies
If you leave a comment on our site you may opt-in to saving your name, email address and website in cookies. These are for your convenience so that you do not have to fill in your details again when you leave another comment. These cookies will last for one year.
If you visit our login page, we will set a temporary cookie to determine if your browser accepts cookies. This cookie contains no personal data and is discarded when you close your browser.
When you log in, we will also set up several cookies to save your login information and your screen display choices. Login cookies last for two days, and screen options cookies last for a year. If you select "Remember Me", your login will persist for two weeks. If you log out of your account, the login cookies will be removed.
If you edit or publish an article, an additional cookie will be saved in your browser. This cookie includes no personal data and simply indicates the post ID of the article you just edited. It expires after 1 day.
Embedded content from other websites
Articles on this site may include embedded content (e.g. videos, images, articles, etc.). Embedded content from other websites behaves in the exact same way as if the visitor has visited the other website.
These websites may collect data about you, use cookies, embed additional third-party tracking, and monitor your interaction with that embedded content, including tracking your interaction with the embedded content if you have an account and are logged in to that website.
Analytics
TBD…
How long we retain your data
If you leave a comment, the comment and its metadata are retained indefinitely. This is so we can recognize and approve any follow-up comments automatically instead of holding them in a moderation queue.
For users that register on our website (if any), we also store the personal information they provide in their user profile. All users can see, edit, or delete their personal information at any time (except they cannot change their username). Website administrators can also see and edit that information.
What rights you have over your data
If you have an account on this site, or have left comments, you can request to receive an exported file of the personal data we hold about you, including any data you have provided to us. You can also request that we erase any personal data we hold about you. This does not include any data we are obliged to keep for administrative, legal, or security purposes.
Where we send your data
Visitor comments may be checked through an automated spam detection service.
Your contact information
TBD…
Additional information
How we protect your data
TBD…
What data breach procedures we have in place
TBD…
What third parties we receive data from
TBD…
What automated decision making and/or profiling we do with user data
TBD…
Industry regulatory disclosure requirements
TBD…
---
Contact Information
---
If you have any questions or need further assistance regarding this notice, you may contact: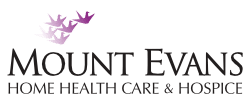 Mt. Evans Home Health Care & Hospice
P.O. Box 2770
Evergreen, CO 80437-2770
Call Office: 303-674-6400 or Fax: 303-674-8813

Office for Civil Rights, U.S. Department of Health and Human Services
1961 Stout Street, Room 1426 Denver, CO 80294
Office: 303-844-2024
TDD: 303-844-3439
Fax: 303-844-2025
A copy of this notice is provided to you at the time of admission to our services. If you or your legal representative would like additional copies, please contact Mount Evans.
The policies and practices described in this notice replace all previous notices or statements on this topic and will remain in effect until any further changes are announced. (Effective date: April, 2003)