Featured in the October 2019 edition of Colorado Serenity magazine.
As nights lengthen and the air grows chill, thoughts warm to the bright promise of approaching Christmas. In the sun-washed community room at Mount Evans Home Health Care & Hospice, long tables laden with cloth and beads, ribbon and paint, smiles and laughter, merrily foretell the holidays to come as generous hearts and deft hands set the 2019 Mount Evans Hospice Angel to wing.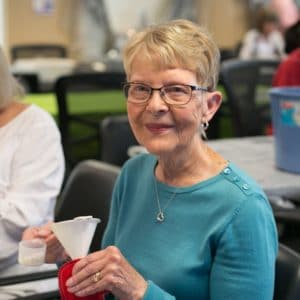 Every Friday morning and Monday afternoon since Labor Day, dozens of volunteer "Angel Makers" have bent to their happy tasks, snipping and folding, bending and tying, carefully, cheerfully, genially fashioning Mount Evans' beloved seasonal emissary from hem to halo. By Thanksgiving they will together have assembled a heavenly host numbering more than 500 that will carry a message of caring and kindness into hearts and homes all across the mountain area.
Many Angel Makers have a knack for crafts. Many others are new to the arts of fabric and fringe. Each is an essential thread in the 2019 Mount Evans Angel, and all of them are pleased to apply their time and talents in service to their neighbors.
"I started volunteering for hospice the year after my mother passed away," explains Karen Phillipe, a dedicated respite volunteer with 19 generations of Mount Evans Angels in her line. "I saw first-hand how wonderful hospice was for her, and how much it helped me and the rest of the family in dealing with our loss. The Angel passes along the love, and I wanted to be a part of that."
Mount Evans Angels have passed along love un-measurable during the last 26 years, helping to provide essential health and hospice services to mountain families in crisis. Few Angel Makers have come to the laden craft tables better prepared than Cheryl O'Toole.
"Crafts are my escape from the work-a-day world," says Cheryl, a skilled hand with needle and thread who got curious about the Angels in 2002. "At first I just wanted to find out what they were doing. The more I did, the more interested I became."
These days, it's entirely possible that Cheryl is passing along more love than anybody. Not only a devoted Angel Maker, for the last several years she's led Mount Evans' all-volunteer Memory Quilter group, helping to weave the fabrics of a loved one lost into a life-lifting blanket of warm, soul-soothing comfort. And, this year, Cheryl is pitching in with both hands to help introduce a new and loving child of the Mount Evans Angel, the Heart Hand Warmers project. For each pair of handmade Heart Hand Warmers sold, a pair will be donated to a Mount Evans patient who can truly use it. To date, Cheryl has sewed together a thousand Heart Hand Warmers, and be assured that she gave each one the same meticulous attention that she applies to all of her Mount Evans activities.
"A lot of care goes into everything I make," Cheryl says. "I treat each Angel as if it was going to be my own."
While many Angel Makers volunteer with Mount Evans in heartfelt gratitude for help provided, pain eased and comfort given, many others simply believe strongly in the organization's indispensable mission. When she retired from teaching, Martha Zavodsky could have lent her skills to any one of dozens of local nonprofits.
"I wanted to help somebody," Martha says, simply. "When you're active with hospice, you know you're helping somebody."
While most of her Angel-crafting colleagues have been active since early September, as a project coordinator Martha has been helping people since June, one of seven women charged with organizing the countless pieces and processes that are now blossoming into the 2019 Mount Evans Angel. It's hard, time-consuming work that she's been happy to perform each year since 2002, but Martha will be the first to say that the rewards are as much personal and public.
"You make new friends and learn about each other," Martha says. "A lot of these volunteers haven't seen each other for a whole year, and it's always fun to catch up. There's so much laughter," she smiles. "People are always stopping by just to see what's going on."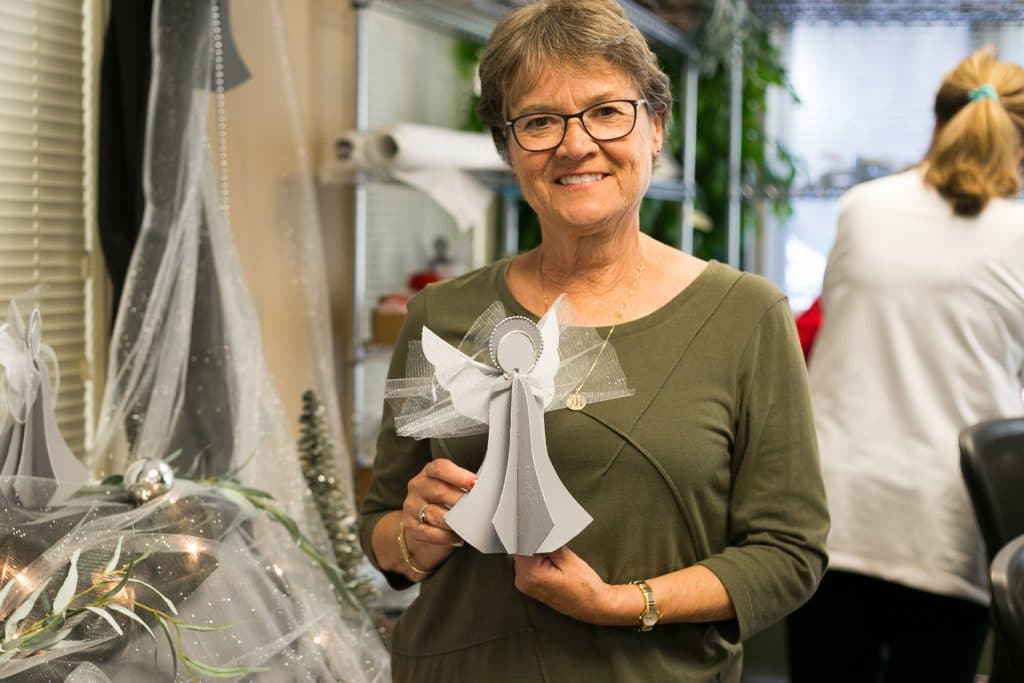 "She's very elegant this year," says Martha. "The Mount Evans Angel is a perfect gift because it makes a great tree ornament, or a wonderful centerpiece that you can display all year long. For a lot of people, she's a treasured holiday tradition."
What's going on at the moment, besides laughter, friendship and community spirit, is a graceful envoy of the season, a three-dimensional Christmas card, glad tidings told in silver and white.
For $30, those wishing to remember a loved one, living or departed, will receive a handcrafted Mount Evans Angel. Nestled in a snug, white box, Angels can also be mailed directly to wherever the donor deems she'll bring the most comfort and joy.
Both Mount Evans Angels and Heart Hand Warmers can be purchased conveniently online at www.MountEvans.org/2019-holiday-gifts/or in merry person at this year's Alternative Gift Fair happening Nov. 9 and 10 at Evergreen Lutheran Church where the 2019 Angel will be sold at a special price of $25. Either way, every Angel that finds a home for the holidays, and every frosty mitten warmed, will help Mount Evans Home Health Care & Hospice continue its treasured tradition of providing compassionate and professional care to every neighbor who needs it all the way from this Christmas to next.
"A lot of people look forward to getting a new Angel every year," Karen says. "Even if you get it for yourself, the Angel is also a gift to someone who needs Mount Evans' help."
In addition, please consider helping us reach our fundraising goal of $100,000. To schedule your donation, visit coloradogives.org/mtevans.