---
BSN, MBA, Senior Director of Clinical Services
Keri is the matriarch of the Mount Evans Family. She oversees every aspect of patient care and nurtures a team of more than 60 clinicians. After working in leadership positions at Centura Health and The Denver Hospice, Keri, an Idaho Springs resident, wanted to support the mountain community where she lives.
"I wanted to work for an agency that I greatly respected. Mount Evans took care of my mom in 2014, so I was blessed to experience their wonderful clinical care and love of delivering hospice care," explains Keri. "Mount Evans' quilters group made two lovely quilts from my mom's clothing that my brother, sister and I gifted to the two eldest granddaughters as a beautiful memory of 'Grams.'"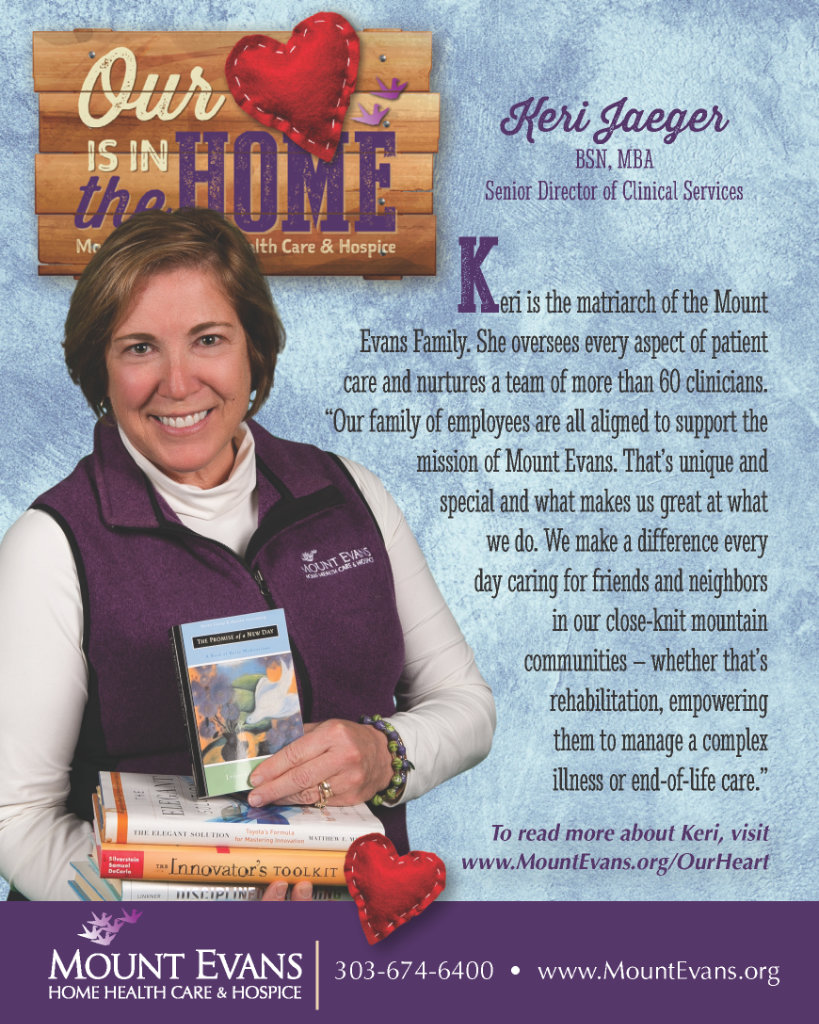 With a Master in Business Administration and a Bachelor of Science in Nursing, Keri has both the heart and mind to lead Mount Evans' team.
"Our family of employees are all aligned to support the mission of Mount Evans. That's unique and special and what makes us great at what we do. We make a difference every day caring for friends and neighbors in our close-knit mountain communities – whether that's rehabilitation, empowering them to manage a complex illness or end-of-life care."
From the moment a patient is referred to Mount Evans and all of the moments in between and beyond, Keri watches over the processes, builds the team and looks for ways to deliver the best possible care. Although most of her responsibilities keep her looking at the bigger picture for Mount Evans, Keri inevitably finds herself requiring a patient "fix." There's a saying among nurses that 'Once a nurse, always a nurse.' It's a calling that never goes away, and Keri can attest that the satisfaction of touching lives never grows old.
"One early morning, our on-call nurse was very busy so I stepped in and made a visit to one of our hospice patients who was having some challenges. Her son was present and the stories of her history and what she'd achieved in this life were to be cherished! She and her son just "lit up" when sharing her story. That's what fills my heart."