The Nature of Grace
Night fell upon the Ambrosier family in September of 2015. Evergreen husband and father Aaron Ambrosier, 44, checked into St. Anthony's Hospital with headaches and vision problems. He was given a heartbreaking diagnosis.
"He had stage 3 glioblastoma, a brain tumor,†says Aaron's father, Roger Ambrosier. "Early treatment helped, but it was incurable.â€

Roger Ambrosier
The Ambrosiers knew of Mount Evans prior to Aaron's diagnosis, but it wasn't until Mount Evans' physical and occupational therapists became frequent guests in their home; that they really came to know the devotion of our providers and how indispensable the services they provide are to families.
While the thought of losing his son was devastating, Roger could only imagine the pain and fear his 13-year-old granddaughter was feeling about the impending loss of her dad. Knowing he was out of his depth, Roger asked her to speak with a Mount Evans counselor. As any teen might, his granddaughter resisted the idea of sharing her most personal thoughts with a stranger and only reluctantly agreed to a trial meeting.
"At the end of the hour she came out and said 'Grandpa, this is a woman I can talk to about anything.' That's a powerful statement for a teenager to say about an adult.â€
In October of 2016, Aaron entered hospice. Caught between personal tragedy and a bewildering maze of forms and procedures, Roger put himself in the compassionate and capable hands of a professional Mount Evans social worker.
Aaron Ambrosier died on Feb. 12, 2017, in the company of his loving family and a dedicated Mount Evans hospice nurse. Aaron's courageous fight against cancer was over and he was at peace. However, the raw, unimaginable grief his family was experiencing, would take a long time to heal. Roger and his wife, Jeanne, joined a bereavement group reserved for parents who've lost a child.
"It was tough, really tough,†Roger says, "but at the end of an hour and a half there was a bond between the members of that group that will last forever and ever.â€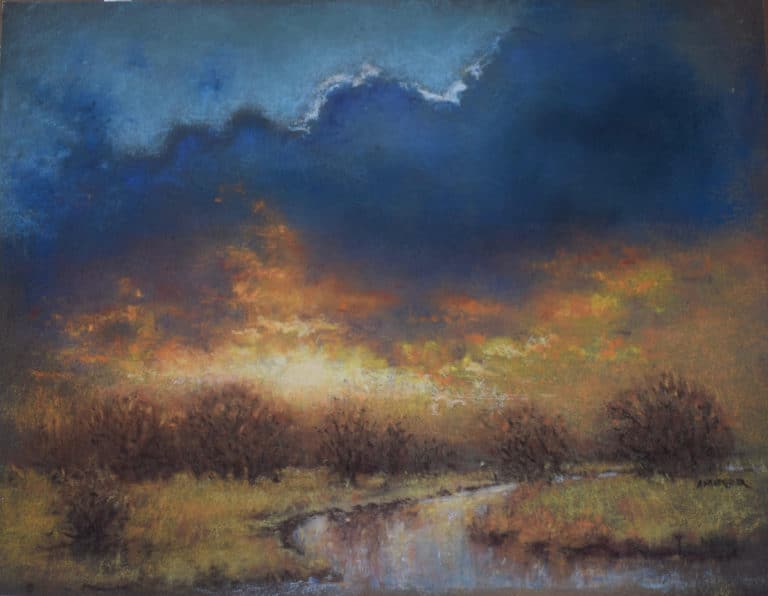 As Aaron Ambrosier and his family faced one of their greatest challenges, they weren't alone.
"I read that the nature of grace is the ability to fill up empty spaces,†Roger smiles. "Over the last two years the grace of Mount Evans has filled so many empty spaces in our family's life.
"They took us at the lowest point of our lives and brought us to a point where we can walk in the sunlight now.â€
"I began painting 'Sacred Silence' about a month before my 46-year-old son Aaron's death from brain cancer. I have read that 'the sky is the soul of all landscapes,' and that was the basis for this painting. The threatening storm clouds appear and have an immediate effect on our lives. As the clouds continue to move and change, they develop into a metaphor for how we experience our own changes. We trust that the light will return after the storm, and this gives us peace, comfort, hope, and joy.â€
To learn more about hospice care at Mount Evans, visit our hospice page.